Report says services and supports for families of children with disabilities are under-resourced, difficult to navigate, and "filled with closed doors and lengthy wait lists for assessments and treatment."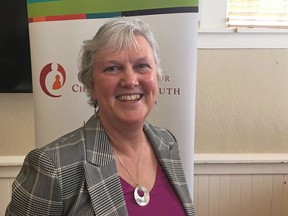 Article content
B.C.'s children's representative says some parents are facing what she calls the "gut-wrenching" decision of whether to place their children with disabilities in government care, so they can get access to better support.
Jennifer Charlesworth said services and supports for families of children with disabilities in B.C. continue to be under-resourced, difficult to navigate, and filled with lengthy waiting lists that leave tens of thousands without help.
Article content
She said parents are being pushed to make a difficult choice because children with disabilities who are in foster care have an array of additional services and support available to them.
"Parents (are) in that gut-wrenching place of trying to decide what's best for their child, or simply they've been walked to the ledge and they just have nothing else to give. So they feel like it's the only safe place for their child to be," she said at a news conference Thursday.
A report released by Charlesworth's office said a government promise to revamp supports for children with disabilities appears to be stalled.
Her office said 14 per cent of 759 people who responded to a survey said they had considered placing their child with disabilities in care under a special needs voluntary care agreement to get the services and supports they require.
Fourteen of the 68 people who reported placing their child in care said they did so only to get services and supports for them.
Charlesworth said the Ministry of Children and Family Development announced plans for a new system in 2021, after three years of consultations, with talk of 40 to 45 "community service hubs" to provide one-stop access to services and navigators to help families.
Article content
She said the news initially brought hope to the tens of thousands of families whose children aren't eligible for services because they haven't yet been diagnosed, or who have had an assessment but aren't eligible for help under current guidelines.
Disabilities not covered under current guidelines include Down syndrome, fetal alcohol spectrum disorder and attention deficit disorder, the report said.
But pushback from those families afraid of losing services they already had, and concerns over the criteria children would have to meet to qualify, led Premier David Eby to promise more consultation.
Charlesworth says in her report that consultations are not expected to be complete until 2025 and families in B.C. "simply can't wait any longer" for changes to the system.
"Families with children and youth whose diagnoses deem them 'eligible' for services will still have to rely on a broken system for the foreseeable future," the report said. "Even more troubling, tens of thousands of families of children and youth with disabilities that aren't currently eligible may continue to be left out."
Article content
Charlesworth said the government could immediately improve nursing supports, train more specialists to provide supports, and improve respite care.
She said she has made 25 recommendations for systemic changes in several reports since taking her job in 2018, but many have resulted in no action from government.
"So it's very disappointing to me when we see the lack of uptake on many of these because they're not frivolous, they are not ill-informed," she said.
The Ministry of Children and Family Development did not respond to a request for comment.
Related Stories
B.C. children's representative urges immediate help for children with special needs

B.C. youth representative calls for better government care of gender-diverse youth
---
Bookmark our website and support our journalism: Don't miss the news you need to know — add VancouverSun.com and TheProvince.com to your bookmarks and sign up for our newsletters here.
You can also support our journalism by becoming a digital subscriber: For just $14 a month, you can get unlimited, ad-lite access to The Vancouver Sun, The Province, National Post and 13 other Canadian news sites. Support us by subscribing today: The Vancouver Sun | The Province.
For more health news and content around diseases, conditions, wellness, healthy living, drugs, treatments and more, head to Healthing.ca – a member of the Postmedia Network.